Having Fun by Healthy Eating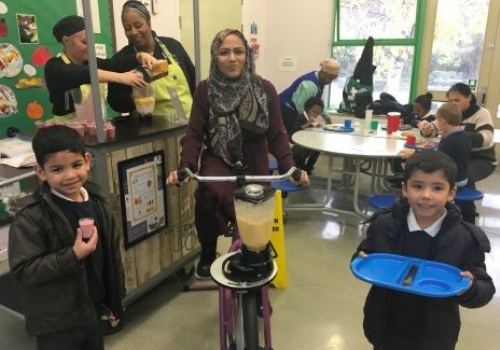 Children at North Beckton Primary School have been learning all about 'Healthy Eating' whilst having fun at the same time. The school has been working closely with the school's catering company – Juniper Ventures– to make their lunches more appetising and the whole lunchtime experience more enjoyable.
This has included the children deciding on suitable behaviour within the dinner hall, improving the physical environment of the lunch hall and developing the role of pupil lunchtime monitors to help ensure all the children are enjoying their lunches. Alongside this, the school has worked in partnership with Juniper to host one of their 'added value events' where year 5 pupils made different types of bread and 'fruit' pizzas whilst learning the skills behind bread-making and importance of fruit in our diets. At lunchtime, all the pupils across the school had the opportunity to make and try fruit smoothies that had been made on a 'smoothie bike'.
Acting Head Teacher, Ms Alison Helm, commented, "It is essential that children develop a good understanding of Healthy Eating from a young age if they are going to go on and make sensible choices about food later in their lives. This doesn't need to be through worksheets or designing posters though; this can be done in fun and memorable ways and Juniper have helped us achieve this through these activities."