Clean air idols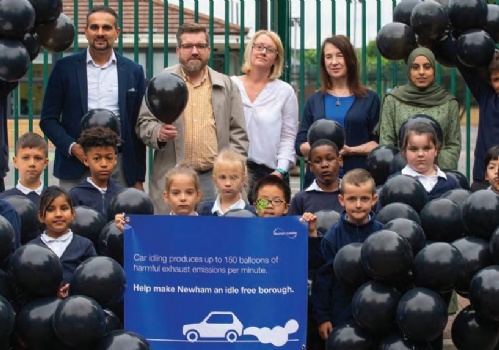 The children from North Beckton were joined by Cllr James Asser, Cabinet member for the environment, Cllr Firoza Nekiwala, deputy Cabinet member for health and adult social care, Cllr Mas Patel, commissioner for air quality and climate change, and Cllr Jane Lofthouse, deputy Cabinet member for education, as they took part in an experiment to see how cars affect air quality.

Newham Council recently declared a Climate Emergency following figures which show the borough has some of the unhealthiest air in the country.
To illustrate how damaging the effect of one car can be on air quality the school children filled 150 balloons to represent the amount of dirty air produced by a single vehicle running an engine while stationary for just one minute.

Cllr Asser said: "Running the engine whilst stationary – or idling – not only costs money but adds to pollution especially in hotspots like outside schools and in congested high streets.
Cllr Patel said: "It is vital to ensure that as a community we do everything in our power to tackle what is now a global climate emergency. It's not what can happen, but what is actually happening. Poor air and pollution is severely affecting the health of our residents and we must take our responsibility seriously to cut our carbon footprint and leave a legacy for future generations."

Children at North Beckton Primary are also learning cycling proficiency and bike repair skills, as well as working on ways to reduce the amount of single use plastics in school.

Head teacher Alison Helm said: "Children at primary school age are so aware and conscious of the importance of focusing on environmental things and the necessity of doing things to save the planet for the next generations. Small steps and projects with these children, like driving-less, cycling-more, removing single-use plastic, will result in a generational change. They fully understand that if everyone does a little bit, great things could happen."
To read more on this, please click here