World Book Day 2018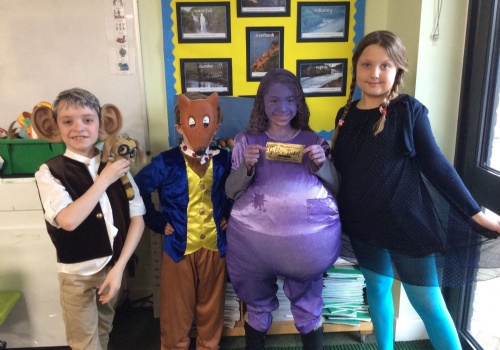 On the 28th March, North Beckton's world was turned up-side-down when Miss Trunchbull stormed into assembly, threw Ms Helm into the chokey and took the school as her own! ​
Staff and children spent the day learning about different Roald Dahl characters and the stories they belong to, whilst thinking of the strengths these characters had and how they could be used to help rescue Ms Helm and take back the school. ​We had children designing chocolate bars that could be given to Miss Truncbbull and turn her green or make her flee the building (amongst some, more sinister, ideas)! We had the Grand High Witch and George (from George's Marvellous Medicine) teaching us how to create potions that could help us rid our school of Miss Truncbull. And, we had the BFG helping us create happy dreams during such a terrible time.
Thankfully, all our hard work paid off and by the end of the day, Ms Helm was released and Miss Trunchbull banished.
Please click here to view pictures from World Book Day