Science Week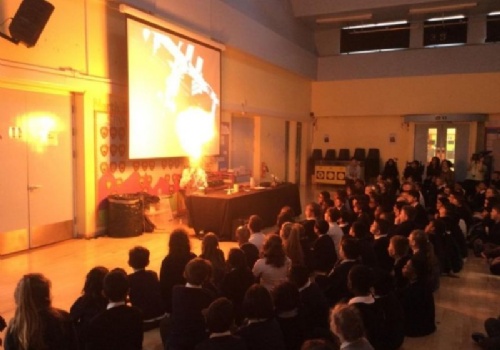 North Beckton Primary School celebrates Science week
During Science week pupils worked scientifically all week engaging in activities linked to their curriculum topics such as making dinosaur eggs, planting beans, fixing electrical circuits, measuring shadows, testing the friction of vehicles and lots of Mentos madness. Each year group was also assigned a scientist for the week. These were Charles Darwin, Isaac Newton, Jane Goodall, Mary Anning , Marie Curie, Zhang Heng and Micheal Farday. Pupils were able to share their work with another class and discuss why their assigned scientist played such a significant role in history.
The Science Theatre created a special show for pupils from Nursery to Year 6, mixing stage performance with amazing demonstrations to explain the most incredible ideas in Science. Pupils too part in the 'Blast Off' show where they prepared for a trip to space, explaining everything you need to know to be an astronaut! Pupils learnt about rockets, gravity, satellites and astronaut food as well as the challenges that astronauts train for.
The family Science quiz ran by North Beckton was a sold out event. Pupils, parents and members of the local community went head to head, answering challenging Science based questions with prizes for the top 3 teams. What an exciting week it was at North Beckton Primary!