Early Years Curriculum
Our We All Belong values are embedded in all that we do and are celebrated throughout the whole school community.
We believe that every pupil starting in Nursery or Reception at North Beckton is beginning a wonderful and exciting learning journey that will lead to lifelong learning and becoming a valued citizen in their local and wider community. In the EYFS, we begin that journey by developing an environment in which respect, a willingness to learn and achievement are valued above everything else. The EYFS is an integrated part of the school. It is a place where, through our collaborative efforts, everyone is part of something unique and significant, feeling valued as part of the rich and dynamic learning community. We are reinventing ourselves constantly to ensure the needs and aspirations of all that work, play, learn and imagine here are met. In the EYFS we are providing the pupils with the opportunities to develop themselves by exploring and discovering learning through a play-centred approach.
The North Beckton Early Years Curriculum is based on the principles of child development and the educational programmes in the revised EYFS Statutory Framework 2021. It is planned to lead smoothly into the National Curriculum at KS 1 in a way which is relevant and meaningful for all children.
Reception and KS1 staff work together through the year to ensure a successful transition into YR1.
The EYFS curriculum stresses the importance of the prime areas of learning - the child's personal, emotional and social development, the vital element of communication and language and the role of physical development.
It also emphasises that the knowledge and skills in the specific areas of early literacy and numeracy, understanding the world or expressive art and design lay the foundations for the future learning of all children.
All our EYFS learning environments are organised into the seven areas of learning so that pupils have equal access to all of:
Prime areas of learning:
Communication and Language (Listening, attention and understanding; and Speaking)
Personal, Social and Emotional Development (Self-regulation, Managing Self and Building Relationships)
Physical Development (Gross motor skills and fine motor skills)
Specific areas of learning:
Literacy (Comprehension, Word reading and Writing)
Maths (Number and Numerical patterns)
Understanding of the World (Past and present; People, culture and communities; and The natural world)
Expressive Arts and Design (Creating with materials and Being imaginative and expressive)
All seven areas of learning and development are interdependent and of equal important.
Through all of our strands we aim to develop the children as they Play and Explore, be an Active Learner and to have Creative and Critical Thinking.
Communication and Language
Communication and language development involves giving pupils opportunities to experience a rich language environment; to develop their confidence and skills in expressing themselves; and to speak and listen in a range of situations.
Autumn Term - Reception:
This week in Reception we have been learning about the book 'Stick Man' by Julia Donaldson. We drew and made him using different materials. We also labelled our pictures using our sounds from Phonics.
At home:
Talk to your child when you are doing jobs, in the car, are out shopping, etc telling them what you are doing. Encourage the asking of questions to extend vocabulary.
Ask your child to tell you about the things they are doing and show them that you are listening.
Read stories to your child. Talk about the books that you have read together.
Physical Development
Physical development involves providing opportunities for young children to be active and interactive; and to develop their co-ordination, control and movement.Pupils are also helped to understand the importance of physical activity, and to make healthy choices in relation to food.
Spring Term - Reception:
In Reception, we have been learning dance skills during PE lessons. We listened to some of our favourite nursery rhymes and made up a dance for "The Wheels on the Bus" song. The children learnt that the speed of the dance can show if it is happy dance or sad dance.
We also have been improving our hand eye co-ordination by playing ball games. We have been practising throwing and catching a ball.
At home
Take your child for walks; play in the garden or the park.
Help your child to use a knife and fork.
Teach them how to do up zips and buttons.
Use balls to play throwing, catching, rolling and kicking games.
Allow your child to take risks and be aware of their own limitations.
Show your child how to wash their hands effectively and talk about why this is important.
Personal, Social and Emotional Development
Personal, social and emotional development involves helping pupils to develop a positive sense of themselves and others; to form positive relationships and develop respect for others; to develop social skills and learn how to manage their feelings; to understand appropriate behaviour in groups; and to have confidence in their own abilities.
At home
Praise your child for trying hard.
Encourage your child to mix with other children and adults and to share their toys.
Set clear boundaries for behaviour. Praise your child for doing as they are asked.
Encourage your child to be independent.Help them to learn how to get dressed, wash and use the toilet.
Play games with your child, encourage them to take turns.
Literacy
Literacy development involves encouraging pupils to link sounds and letters and to begin to read and write.Pupils are given access to a wide range of reading materials (books, poems, and other written materials) to ignite their interest.
At home
Read stories to your child. Talk about the books that you have read together.
Encourage them to play with paper, pencils and pens. Encourage them to experiment with the marks they can make.
When out and about or at home, show your child that print is everywhere; shop names, food packets, television, road signs etc.
Take your child to the library and encourage them to choose books to share.
Maths
Mathematics involves providing pupils with opportunities to develop and improve their skills in counting, understanding and using numbers, calculating simple addition and subtraction problems; and to describe shapes, spaces, and measures.
At home
Encourage your child to observe that numbers are everywhere – house numbers, road signs, prices, television, number plates and buses.
Ask your child to sort washing into colours.
Make patterns with everyday objects or count out the cutlery needed at meal times. Are there enough plates for everyone?
Look for shapes in the home, in the street, in shops or in toys.
Count items such as the stairs, toys, books, fingers, toes.
At bath time provide children with containers to experiment with capacity, developing concepts such as full and empty.
Understanding the World
Understanding the world involves guiding pupils to make sense of their physical world and their community through opportunities to explore, observe and find out about people, places, technology and the environment.
Autumn Term 2 - Nursery:
The children in nursery have had so much fun playing in the snow. Snow days offer a wonderful opportunity for the children to get outside and be physically active whilst exploring this beautiful and interesting weather phenomenon in all sorts of ways; as scientists, as artists, as geographers and ​as children.
Autumn Term 1 - Nursery:
The Nursery children went on an Autumn Walk around the school to look for the signs of changes to the season. They enjoyed finding leaves of different colours, picking pinecones , finding conkers and much more! ​After children were so excited to set up Autumn display in Nursery.
Celebrating Diwali in Nursery
In Nursery, we have been learning about the Hindu festival of lights – Diwali. We have had great fun learning about the story of Rama and Sita. We had a go at recreating some of the Diwali traditions in nursery, such as making diva lamps using play dough, glitter, sequence and jewels. We made Rangoli patterns and Mendhi hand designs. Once our diva lamps were ready we lit the candles. We were dressing up in traditional clothes and danced to traditional music.​
Autumn Term - Reception:
For Computing Week in Reception we painted a picture of "Stick Man" using the "Paintz program". We went to Forest School, and we took pictures on an ipad of the changing season
At home
Encourage your child to use their senses – what does it look, feel, smell like? Ask them to feel different textures and develop vocabulary to describe them.
Talk to your child about the seasons and the weather and observe the changes with them.
Talk about events in the past and future. Use photographs.
When walking or travelling, talk and name different landmarks, animals, plants, birds that are seen.
Through books and television, discuss the differences between other countries and cultures.
Expressive Arts and Design
Expressive arts and design involves enabling pupils to explore and play with a wide range of media and materials, as well as providing opportunities and encouragement for sharing their thoughts, ideas and feelings through a variety of activities in art, music, movement, dance, role-play, and design and technology.
Spring Term - Reception:
In​ Reception, we have been learning about 'People Who Help Us'. The children have enjoyed the hospital role play, dressing up doctors and treating the patients.
In Reception, we had a very special visitor, Mr Murdoch, the music teacher. He brought his guitar and played us lots of our favourite songs. We practised singing quietly and loudly, as well as quickly and slowly. We really enjoyed this, and we are looking forward to him coming back soon!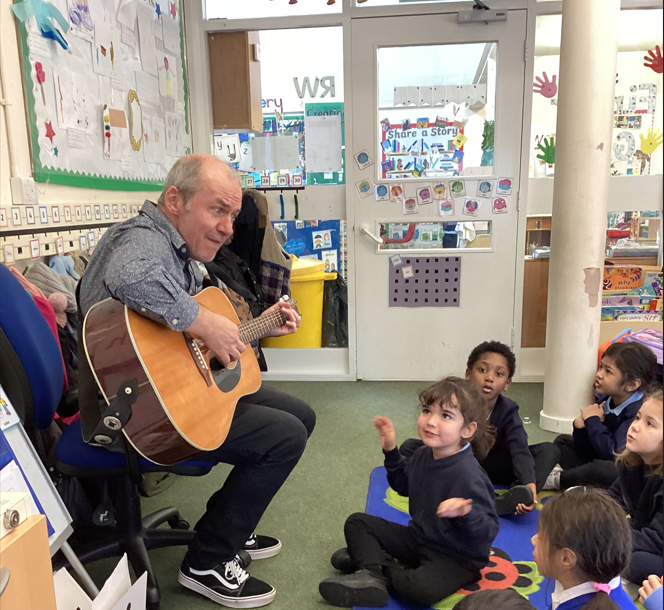 At home
Provide opportunities for your child to experiment with paint, crayons or boxes for modelling.
Listen to different types of music together.
Let your child dress up and use props; they may wish to use their imagination and experiences to act out plays and games.
Children love to play with puppets. Have a go at making your own simple puppets using old socks or wooden spoons.
Encourage your child to discuss their drawings or paintings by asking open-ended questions such as "tell me about your picture".
Edible Garden and Outdoor Learning

At North Beckton in Early Years we aim to provide our pupils with exciting opportunities to connect with nature. We want all our pupils to get real-life hands-on experience to grow their own food in our Edible Garden and learn about the beauty and wonder of the natural world.
We use our outdoor spaces for learning across the curriculum as well as providing gardening activities to develop specific gardening knowledge and skills.
All pupils know about growing edible plants and are knowledgeable about their health and the environment. They have skills they can use outside school.
Have a look at the gigantic pumpkins we grew in our nursery this year!
Children made their very own Bug Hotel for our nursery garden. Children were checking regularly to see if the hotel got some bug visitors!
Forest School
We provide a range of different opportunities for children to participate in a range of practical activities and experiences outdoors.
Our ethos is provided to the children with the freedom to explore, touch, smell, listen to and feel what it is like to be in the great outdoors.
Children will be able to try things out, take risks, learn to problem-solve and work cooperatively with others.
The children will learn a range of practical skills like how to make a fire, how to cut wood with a variety of tools to create a range of different things as well as learning to identify some of the wonderful flowers, trees, insects and animals that populate our Forest school and outdoor areas. This will be measured through observation, pupil voice and the skills they have obtained which they can apply in activities outside school.​
---
Useful Documents

For more information, please click the links for the below documents:
Statutory Framework for the Early Years:
This document outlines the standards for the learning, development and care of children from birth to 5 years old. All early years providers must follow the guidance within this document.
This document provides non-statutory guidance materials and supports practitioners in delivering a broad and balanced curriculum.
This document provides additional, comprehensive guidance for EYFS practitioners, drawing on previous guidance for the Early Years Foundation Stage (EYFS) which has been updated in order to reflect recent research.
Early Years Foundation Stage Profile Handbook:
This document provides guidance and advice from the Department for Education (DfE).
The purpose of this booklet is to help you as a parent/carer find out more about how your child is learning and developing during their first five years, in relation to the EYFS.
Parental Involvement

We recently hosted a very special Stay and Play even for our Nursery families. Parents/Carers were invited to join us in Nursery to come and experience a little taste of what we do at Nursery.
We enjoyed indoor and outdoor play activities, phonics and maths activities together plus much more!